I am so excited to be bringing you a new monthly feature here at QVC & Quacker Factory – and it's called 'Patrick's Pick Of The Month'!!!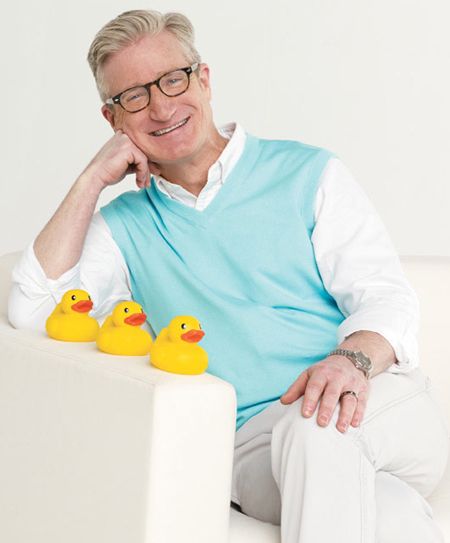 I am deeply passionate about making sure that each of you is looking – and FEELING – your best every single day when you wake up!  Back on February 4th, 1995, women's choices for clothing were dramatically changed when Jeanne Bice first appeared on QVC.  Never before has there been so much sparkle and shine – and HAPPY CLOTHES – as there is today – thanks to our beloved Jeanne! She not only brought you fun clothing that fits all body sizes and shapes – but she brought you the most beautiful colors!  Angel and I are so honored to be able to continue her legacy of unique, fun and comfortable fashion.
I love our brand so much – and all of you – that I wanted to help you put together a few outfits from some of my personal favorite items.  So each month I'll be sharing with you a complete head-to-toe outfit – and this month I have two outfits for you!  My first one is a dressy/red-carpet-moment outfit – and the second one is an outfit that's perfect for you to wear on any day of the week!
'It's Time To Sparkle…Tis the Season to Shine!'
Holiday Looks and Everyday Glam – Quacker Style!
Jeanne used to say, "Life's a party – so you have to go out and celebrate EVERY day!"  And what better way to celebrate then with my first outfit! 
LOOKING FABULOUS FOR YOUR OWN RED-CARPET MOMENTS!
Nothing says 'party' in the fall and winter better than luxurious velvet and that's why I picked the Rhinestone Embellished Stretch Velvet Top as my first pick!  And can you believe it comes in 12 (TWELVE) colors?! 
Here's a picture of our beautiful Angel in the Royal Blue – doesn't she look Quack-Tabulous?!  And our wonderful 'Quack-Ette' model Colleen is wearing the top in the really rich and perfect-for-the-fall color Emerald.  And if you don't recognize our third model in the picture, it's my gorgeous mother Ann Hoy – doesn't she looked stunning in the black option?!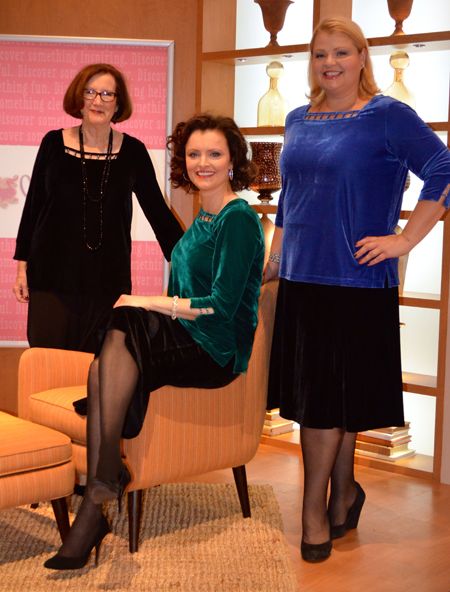 For a complete head-to-toe outfit, I've teamed the top up with the Velvet Pull-On A-Line Skirt by Quacker Factory.   The skirt is available in 3 different colors – Black, Wine & Navy.  I LOVE the complete look of velvet on both the top and the bottom – and you'll love the fact that this skirt is a pull-on with a fully elasticated waistband.  (Which is perfect if you have a second helping of desserts!)
In the picture above, you can see that both Angel and Colleen are wearing it with the black option – which shows you just how much versatility you'll get with the black.  Who wouldn't want to be dressed from head-to-toe in some of the softest and most comfortable velvet?!
But if you don't want to match it with the skirt, that's okay too!  Here's a picture of Mom wearing the top on its own – I think you'll agree that she and the top really are beautiful!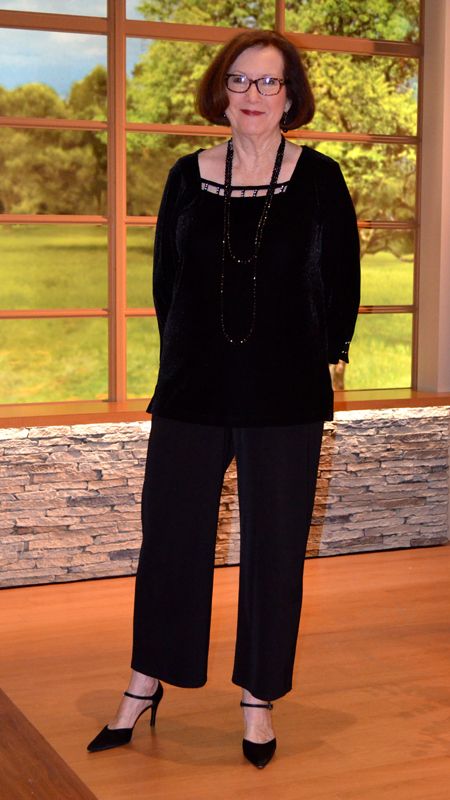 Mom has paired this gorgeous top up with some of her own crop length slacks – along with a long necklace – thus giving the illusion that she is taller than she actually is.  And since this top is a ¾ length sleeve top, it really will show off all of your favorite jewelry  – and your sleeves won't dip into the gravy at the Thanksgiving table!
GET CASUAL & HAVE FUN!!

My second 'Pick Of The Month' is all about having fun and looking fabulous!  And you're sure to get noticed and complimented in this next outfit!
I picked this one because the complete outfit, from head-to-toe, is a tribute to Jeanne Bice. 
For the top, I've selected our brand new Charmed I'm Sure Jacket & T-shirt Set.  Jeanne Bice LOVED charms!  She loved collecting them – and she loved showing them off!  So our creatively clever design team made this set especially as a tribute to Jeanne.  You get both the jacket & the short-sleeve top AND on each jacket, there is a matching (and removable!) charm with sparkle and shine!  Look at how adorable Angel, Colleen and my mother look in three of the four options!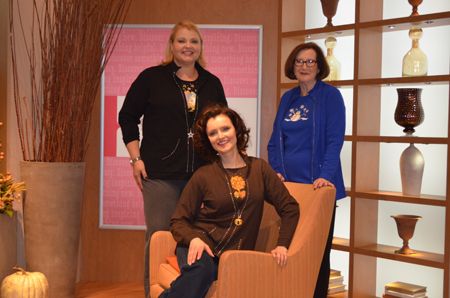 Angel is wearing the Black option that comes with a Nativity Scene T-Shirt – and the charm is a beautiful Star – wait until you see the detail in this set!  Colleen is wearing the Espresso option with a rich and vibrant tree bursting with fall colors – and the charm is an adorable pumpkin!  (And after Halloween is finished, you can remove the charm and wear the jacket for the rest of the year!)  And Mom is wearing the Royal Blue jacket that has a Snowflake charm – and the most beautiful snowperson on the T-Shirt!  And if you want a set that you can wear all year-round, we've got the perfect one for you in Red with the cutest kitties you've ever seen – and there's a Heart charm for that one – because we know the second you see those kitties, your heart will be full of love!
Jeanne would have loved the fact that you can remove the charms from each of these jackets and either wear them on your favorite charm bracelet when you're not wearing the jacket – or you could even use them as bag charms on your favorite purses!
And speaking of Jeanne, I just HAD to pair these new sets with the first ever DreamJeanne pant that Jeanne introduced to the world on September 22nd, 2010 – the DreamJeannes 5 Pocket Knit Denim Boot Cut Pants.  Did you know that we now have this favorite of yours in TWENTY-FOUR colors?!?  How many colors do you have in your collection?!
As you can see, I'm giving the thumbs-up to Angel, Colleen & Mom during our photo shoot!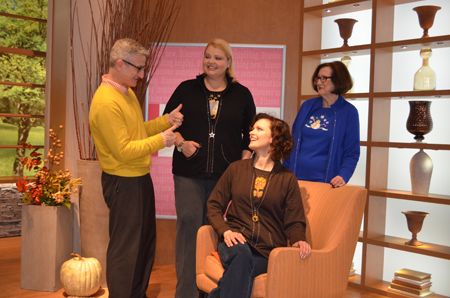 I hope you enjoyed my first 'Patrick's Pick Of The Month' items.  Be sure to tune in on Wednesday the 29th of October where I'll be sharing these items with you at 1pm EDT with Angel and Jayne Brown. 
And if you loved these items – just wait until you see what I have lined up for you next month!
Until then,
Quacker Hugs & Love From Across The Pond!!! See you Wednesday, 9/28 from 1 – 3 PM ET!
Patrick
Xoxoxo
Click on each link below to see more detail about each of Patrick's picks
Quacker Factory Rhinestone Embellished Stretch Velvet Top
Website: http://qvc.co/EmbVtop
Quacker Factory Velvet Pull-On A-Line Skirt
 Website: http://qvc.co/embVtop
Quacker Factory Charmed I'm Sure Jacket & T-Shirt Set
 Website: http://qvc.co/charmed
Quacker Factory DreamJeannes 5-Pocket Knit Denim Boot Cut Pants
Website: http://qvc.co/5pocketpants
To stay up to date at what's Quackin' at the Quacker Factory, join the email list! Click here to sign up to receive emails from Quacker Factory – Click Here
To follow Quacker Factory with Angel on Facebook,Click Here
To follow Quacker Factory with Patrick on Facebook, Click Here