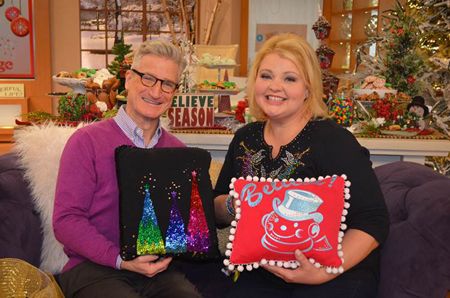 Ho Ho Ho! It's John from the Quacker Factory Design Team here! It was so great to get down to the QVC Studio's last week for our 4th Annual Quacker Factory Cookie Exchange Live Studio Audience Show! As you may know, I LOVE the holiday season and everything that comes with it – the food, the friends, the fun, and the magic and warmth that you feel only during those special holiday moments. It was such a joy to be able to spend the day with some of you, celebrating all things Quacker!
For big events such as the Cookie Exchange, the Design Team gets asked to help out with fun props for the set, and I had a great time making the Holiday Pillows you see Angel and Patrick holding. You may recognize them because I made them from some of our Quacker Factory Holiday tops that I simply turned into Holiday pillows! So as you add beautiful new Quacker items to your Holiday wardrobe, maybe think about recycling some of your older ones into beautiful pillows for your home! Tis the season to be covered in sparkle, right?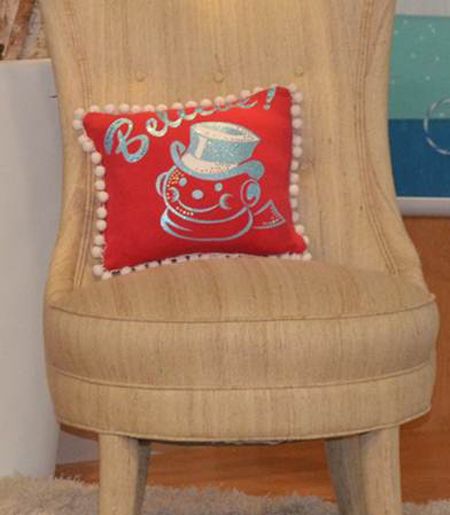 A218216 Quacker Factory Old Fashioned Christmas 3/4 Sleeve T-Shirt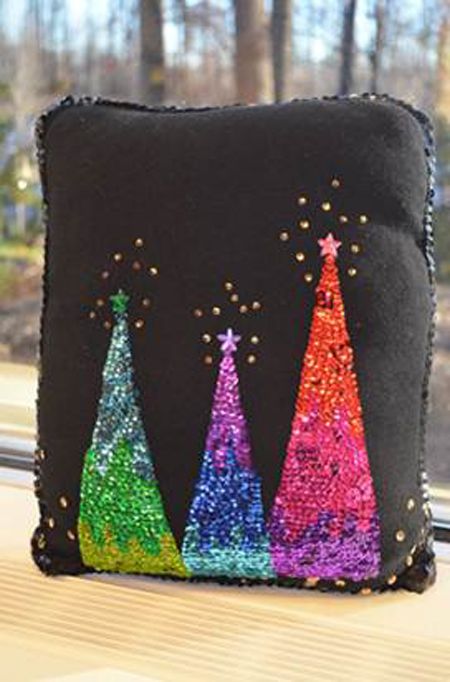 A210797 Quacker Factory Christmas Metallic Sweater
But if you're thinking, 'Hey, I don't know how to sew!' Don't worry – you can make them a couple of different easy ways. Here's how:
HOLIDAY PILLOWS – THE NO-SEW METHOD
1 – Head to your local home goods store and buy an inexpensive pillow that will coordinate with the shirt design you will be using.
2 – Take your shirt and cut around the motif you would like to feature on your pillow. Cut in the same shape as your pillow. Cut a couple of inches smaller than the pillow. For example, if your pillow measures 12 inches, then cut your square around 10 inches.
3 – Adhere your design to your pillow using hot glue or fabric glue.
4 – To cover up the frayed edges of the design fabric, simply cover the edges with decorative trim from the fabric store. The trim really gives it that designer look for a fraction of the price, and it hides all the frayed edges! Hot glue will work best for applying the trim.
5 – You're done! Find a perfect place for your new creation!
HOLIDAY PILLOWS – THE SEWING METHOD
1 – Cutting around your design, cut a square panel out of the front of the shirt you are using.
2 – Lay that square on the back of the shirt and cut a second square the same size. Now you have a front and back of your pillow.
3 – Turn the "good sides" of your fabric together.  Pin fabric around the borders if you like prior to sewing.
4 – Sew around all four sides leaving about a 4-inch section open at the bottom.
5 – Turn the pillow right side out through that 4-inch section exposing the "good sides" back out to you.
6 – Stuff evenly with fiberfill and stitch the opening closed.
TIP: Another option is to let your local tailor do the sewing for you.
It just makes me smile to see these little drops of holiday sparkle around my home. I hope you'll think of adding a little touch of Quacker to your holiday decorating! Wishing all of you the happiest of holidays! Until next time!!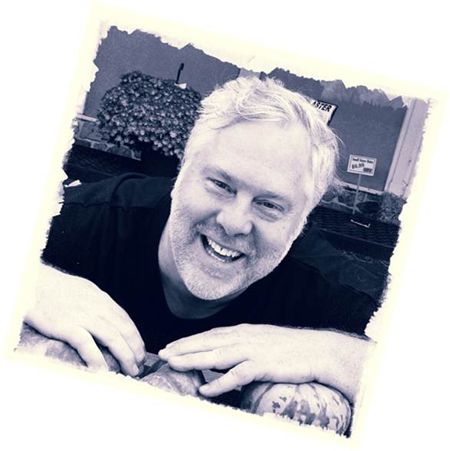 John
Shop the complete Quacker Factory collection on QVC.com
Click Here to stay up to date at what's Quackin' at the Quacker Factory, join the email list!
To follow Quacker Factory with Angel on Facebook, Click Here
To follow Quacker Factory with Patrick on Facebook, Click Here