It is so good to be back with my new 'Patrick's Pick Of the Month!  As I've said before, I am deeply passionate about making sure that each of you is looking – and FEELING – your best, every single day when you wake up!!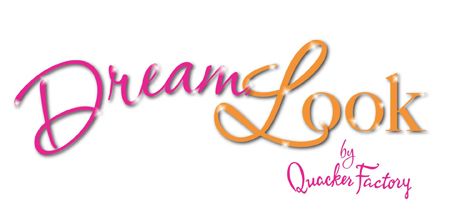 I've got a question for you – how many nights have you dreamed about being able to wake up in the morning and walk straight into your closet and having a coordinated outfit just waiting for you to put on – without even having to think about it?!  Wouldn't it be Quack-Tabulous to have your own personal wardrobe stylist – like the stars do?!
Guess what?!  Your dreams have just come true, because our incredible Design Team has done that just for YOU!
Ladies, let me introduce you to the newest clothing concept from Quacker Factory!!!  It's like having your own personal shopper and stylist all rolled into one!
Presenting the Quacker Factory DreamLook!
DreamLook is our exciting new concept in ensemble fashion design.  We've created gorgeous coordinated tops and pants that work together—or separately – to create a variety of looks that YOU choose! It's a fabulous way to boost your wardrobe for Spring!  Say goodbye to trying to decide what goes with what in your wardrobe – and say HELLO to some complete Quack-Tastic head-to-toe looks!
'Spring' into March like a 'Lady Leopard'!
Jeanne Bice LOVED animal print!  So it was only fitting that we honored Jeanne with our first 3 items in the new DreamLook collection.  This month's theme is Lady Leopard – and I promise that it will bring out the animal in all of you!
The Lady Leopard DreamLook is made up of 3 different items – that you can mix and match – or wear on their own.  That's the joy (and FUN!) of each month's DreamLook.
Making An Entrance!
For Lady Leopard, we started with the most beautiful cardigan that you could ever hope for.  It comes in FIVE color options – Brown, Green, Grey, Pink or Blue – the rainbow's the limit with this one ladies!  Here's the link to see how beautiful these colors look:  http://qvc.co/leopardcardigan
Here is Kerin wearing the Brown option – I think you'll agree that she looks absolutely stunning in this one!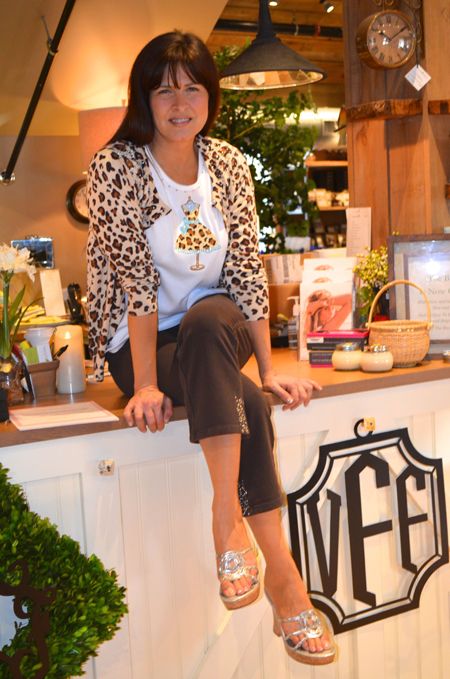 Wild About DreamJeannes!
And if you're asking yourself if those DreamJeannes are new and are part of this DreamLook, the answer is YES!  Say HELLO to the latest and greatest DreamJeanne – the Lady Leopard DreamJeannes Crop Pants!  Kerin is wearing the espresso option – but you can choose between that one and also Misty Jade, Dark Indigo, White and/or Black.  Want to see them up closer, just click here!  http://qvc.co/leopardpant
And guess what?!  Not only do they have a little bit of leopard design bling at the hem lines (after all, Jeanne Bice always said that the thinnest part of a woman's body was her ankles – so Jeanne LOVED putting some embellishment that would draw people's attention to your great ankles!) – but they also have some Leopard Bling on the back pockets as well.  And how clever was our design team to raise the back pockets a little so that if you wanted to cover up the bling on the pockets, you could do so with your shirt or cardigan?!  Here's our beautiful Angel in the Dark Indigo color option in the new Crop pants showing off that adorable bling: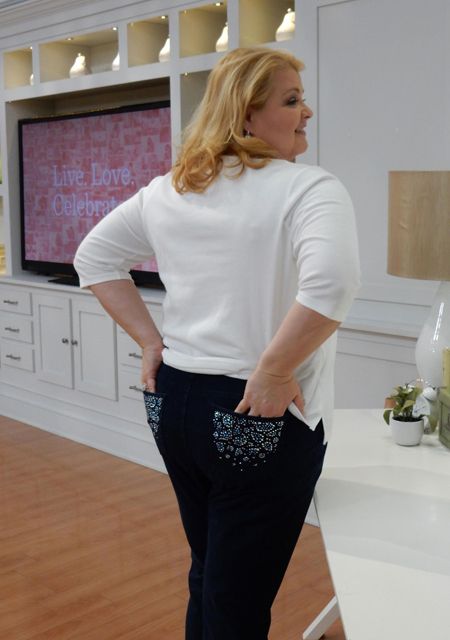 Looks That Will Get You Noticed!
And just wait until you see the 3rd piece we've come up with in our first DreamLook collection – it's the Lady Leopard Novelty Top! http://qvc.co/noveltytop  Not only does this top come in 5 coordinating colors to the cardigan and DreamJeanne Crop Pants, but each color has a different design on it!  Drum roll please for your options:
1)      The fluttering Butterfly – will coordinate back to the green cardigan & Misty Jade DreamJeannes
2)      The cutest dressform –  coordinates with the brown cardigan & Espresso DreamJeannes
3)      Cutie kitty – will coordinate beautifully with the grey cardigan & Black DreamJeannes
4)      Pink perfume bottle –  is a wonderful match for the pink cardigan & White DreamJeannes
5)      Perfect purse – is perfect with the blue cardigan & Dark Indigo DreamJeannes
Here are pictures of 4 of the designs and 'looks':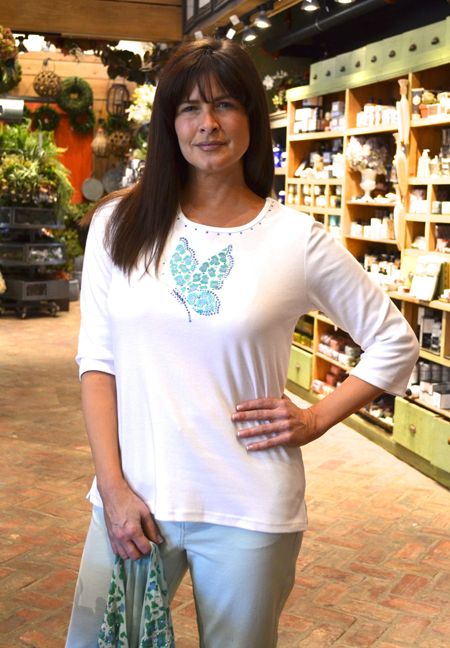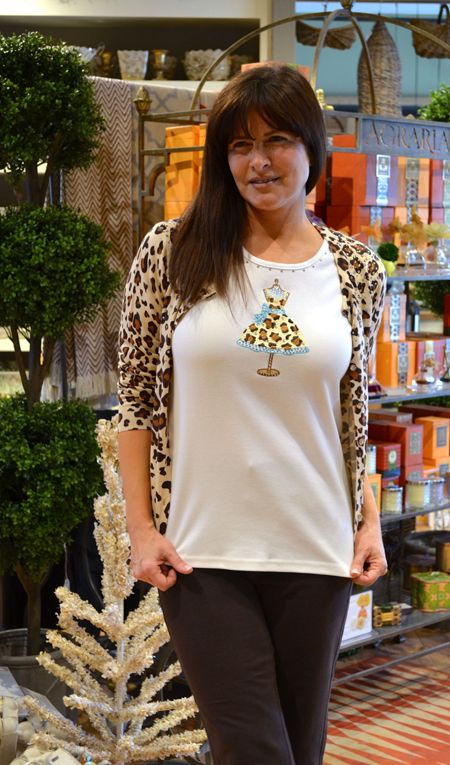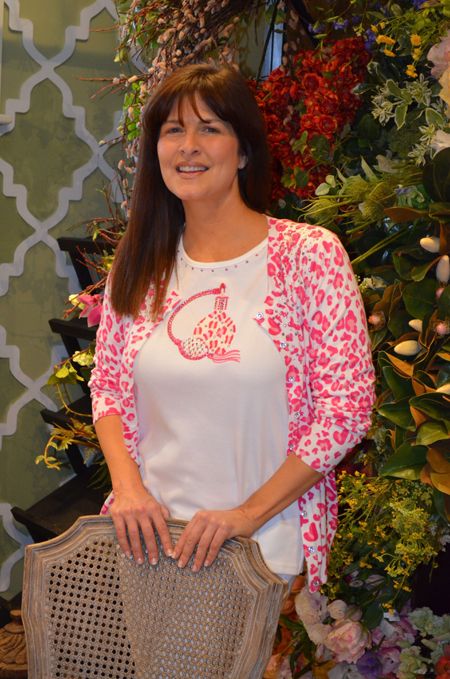 You loved our 'Weekender Sets' in the past and have been writing to Angel and me to PLEASE bring them back.  Well, we've listened and your wish is our command.  We also listened when you told us that you wanted coordinating items, but could be given the choice to order the tops in one size, and the bottoms in another – after all, as Jeanne used to say:  "Ducks come in different sizes – and not everyone is the same size on top as they are underneath!" 
So what do you all think?!   Would you like to see MORE DreamLook's in the future?!  If you said yes (and we're pretty sure you did!), you won't have to wait too long, because we'll be bringing you more complete DreamLook's over the next few months!
In the meantime, sit back, relax and enjoy this video of Kerin showing you more of our purrrrrfectly delightful Lady Leopard DreamLook Collection!  In the comment section below, tell me what your favorite color combination is in our first DreamLook collection!
Quacker Hugs & Love From Across The Pond!!!
Patrick

Xoxoxo
Click on each link below to see more detail about each of Patrick's picks
A262868 – Lady Leopard Cardigan – Click Here
A262869 – Lady Leopard DreamJeanne Crop Pant – Click Here
A262565 – Lady Leopard Novelty Top – Click Here
A262867 – Lady Leopard Set of 2 T-Shirts – Click Here
To stay up to date at what's Quackin' at the Quacker Factory, join the email list! Click here to sign up to receive emails from Quacker Factory – http://bit.ly/PH_EmailLists
To follow Quacker Factory with Angel on Facebook, click here:  http://bit.ly/A_Facebook
To follow Patrick on Facebook, click here:  http://bit.ly/P_Facebook