resisted for a long time, hearing everyone talking about how great the show Downton Abbey was. I waited and said, 'Now I don't have time to invest in another series!!' Well my good friend, David Fritz, who plans the Quacker cruises, had something else in mind.
When I went to visit him last year in Florida, he got me COMPLETLEY HOOKED on this series. While I was with him, I watched the entire first season. When I got home, I downloaded Seasons 2 & 3 onto my iPad for watching. Then finally, this year I joined PBS so that I could own the entire series on DVD and get to watch Season 4 before it was shown on the air here in the US. Crazy??? Or crazy like a fox (duck, if you prefer). This show is one of the best shows I have ever watched, and I love to watch television!! 
I have even turned my friend, Susan, on to the show. And while anxiously awaiting Season 5 to be shown on PBS, I have been re-watching the series while on my treadmill.
When Susan & I learned that a local museum was going to host an exhibit featuring the costumes of Downton Abbey, we just knew we had to get there to see what they had in store. Well, we were not disappointed!!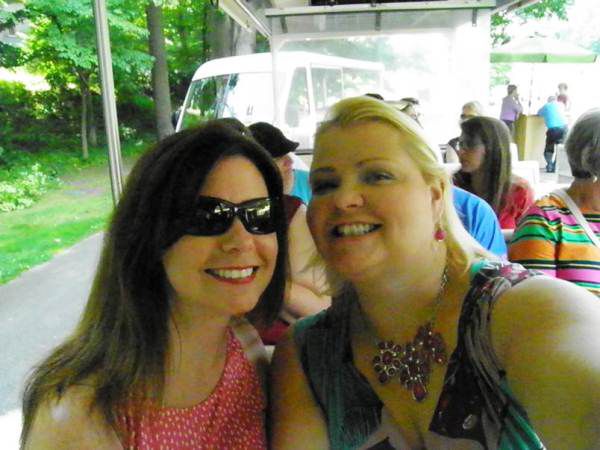 If you've not been to Wintertur Museum & Gardens (we had not), it is a wondrous place with amazing grounds once owned by the DuPont family. We decided to take the open air bus to the building where the costume exhibit was being housed.
If you are not familiar with the show Downton Abbey, it is a show about the classes. Every show contains many trials & tribulations of the upper class living upstairs, as well as the problems that arise with the servants living in the servant's quarters. There are many stories written about the conflicts between sisters, spouses and friends, or of those who are classified as "different." There is a struggle to maintain tradition while moving into the 20th Century. New exciting things are introduced to the characters, such as the telephone & electricity. My favorite character is Dame Maggie Smith who plays Violet Crawley, Dowager Countess of Grantham. I would not want to get in front of one of her proper English zingers!!!
The exhibit takes you through the day in the life at Downton, starting with the outfits the servants wear as the start of the day and beyond. I love the costumes in the show, but it was so amazing to see some of them up close. NO TOUCHING, though!! I learned from my years at working at a textile college that you may not touch the costumes unless you are wearing white cotton gloves!!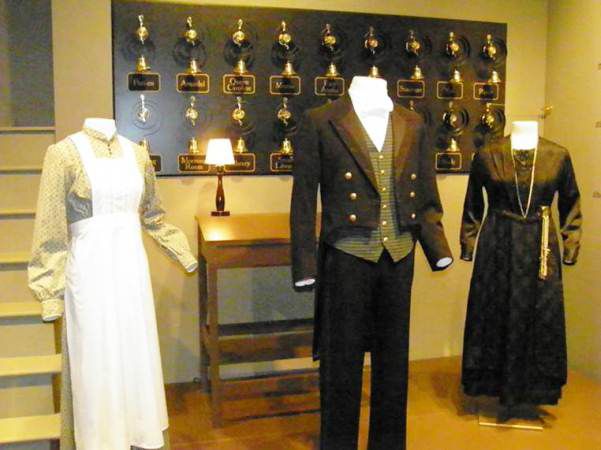 The servant's attire – costumes of a maid, a footman & the head housekeeper.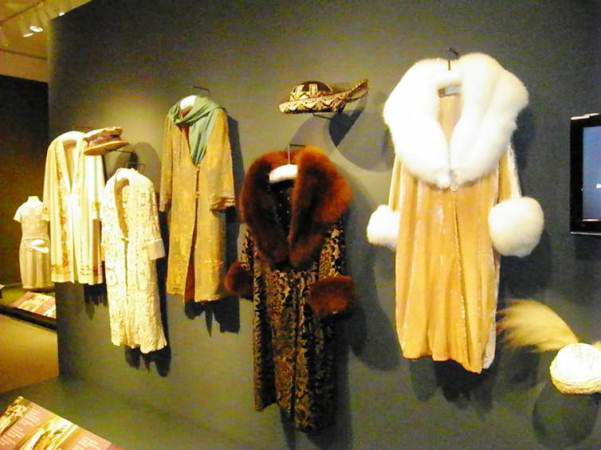 These coats were just gorgeous!! Shirley MacLaine plays Lady Grantham's mother in the show, and she wore the coats with the fur collars. Lady Grantham is played by Elizabeth McGovern, whose marries Lord Grantham & saves the estate with her money. (Or does she???)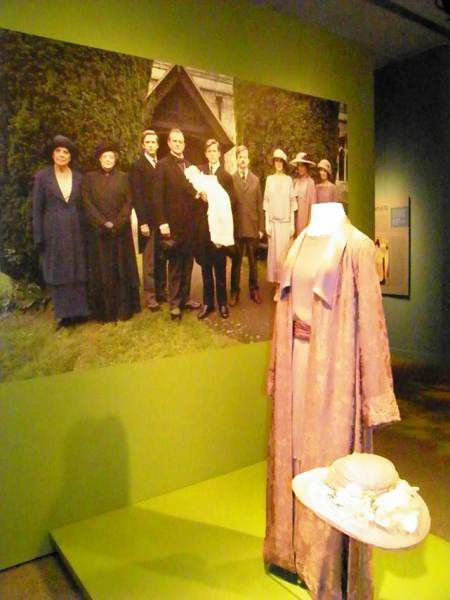 This costume is from the christening of Lady Sybil's daughter, Sybi.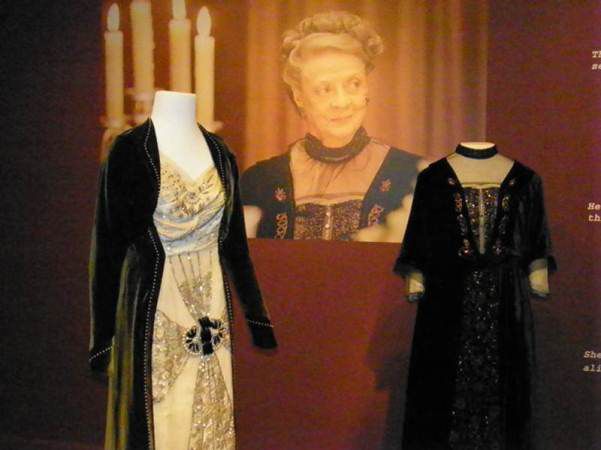 Violet Crawley, Dowager Countess of Grantham—a few of her costumes.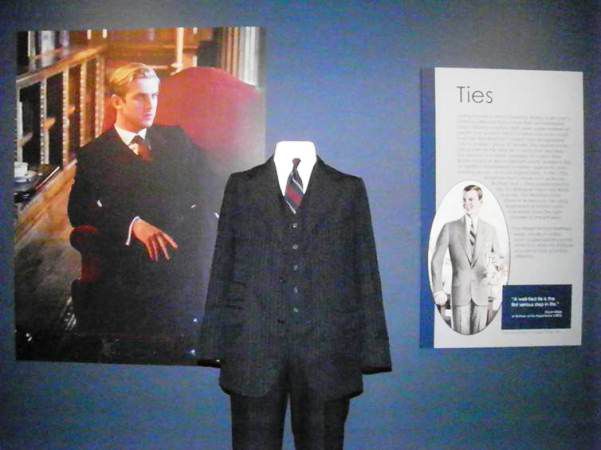 Not only did the exhibit show the costumes from the show, but they also added bits of historical significance. Ties, valets, gloves—these were all explained as to how they came to be in fashion.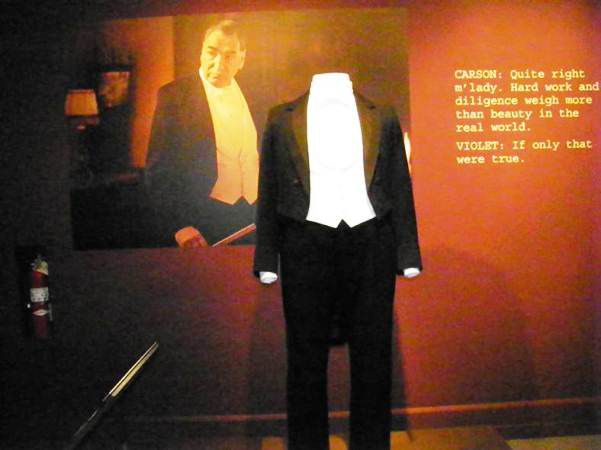 Mr. Carson is the head butler. He is stern but fair—always.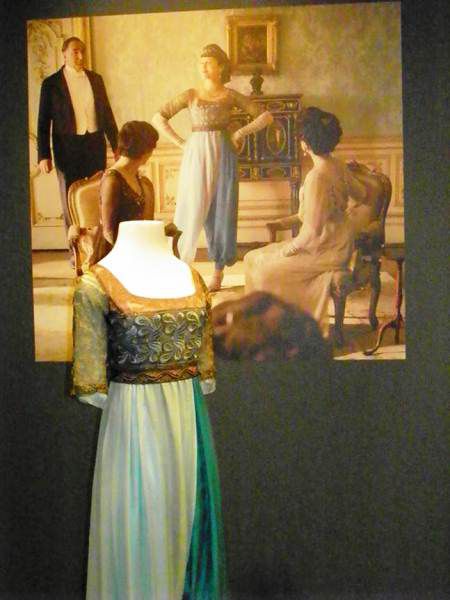 Lady Sybil's costume in this episode was quite a BUZZ because she wanted to have a different frock, one that was more in the fashion of the times. She shocked everyone when she came in to the room wearing this pant suit!!!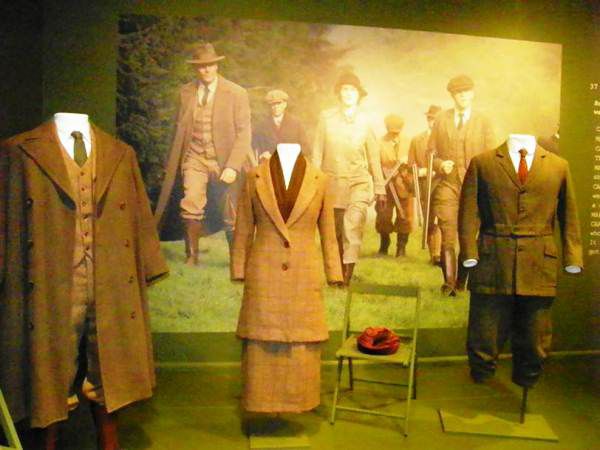 And these costumes were from an episode where they had a hunt! Coats, hats, ties, everything one needed to be fashionable while traipsing through the English countryside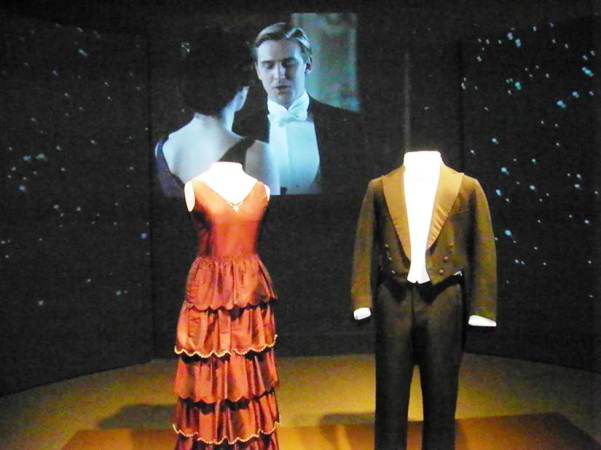 The above costumes were worn by the actors who play Matthew Crawley & Lady Mary Crawley. The museum showed the scene on a screen in the background. This is where Matthew proposes to Lady Mary—and she finally says yes. They have had quite a few trials in their relationship, but it finally seems that they will live happily ever after!!! (Or will they???)
This was the end of our exhibit, except for this fun photo taken of Susan. Doesn't it look as though she is on the set of the show?? Well, just a little…and maybe if you squint your eyes. Well, we tried!! hehe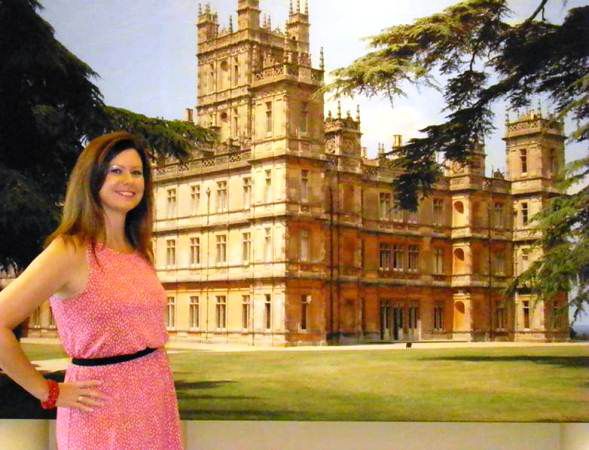 After the exhibit, Susan and I attend a high tea. The food was delicious, although it was not served in the traditional sense of high tea—it was more of a buffet. We did not really like that part, since we have been to many traditional teas. But definitely worth treating yourself!!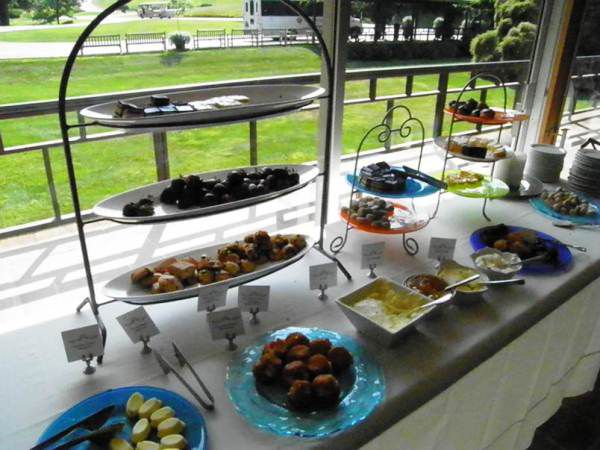 But the exhibit was just wonderful, and it runs until January of 2015. So if you are in the area, and you love the show or simply love the history of fashion, I highly recommend taking an afternoon to see this wonderful place!! 
The clothes from Downton Abbey sure are beautiful. But one thing they're not is COMFORTABLE! Imagine how much happier they'd have been if they had been wearing DREAMJEANNES!
Which style do you think Mary would choose? How about Lady Edith? Maybe Dowager Countess Violet?
Click here to shop DreamJeannes for the ladies of Downton and yourself.
Until next time—Quack, Quack for now!
Angel xo
To stay up to date at what's Quackin' at the Quacker Factory, join the email list! Click here to sign up to receive emails from Quacker Factory – Click Here
To follow Quacker Factory with Angel on Facebook,Click Here
To follow Quacker Factory with Patrick on Facebook, Click Here