It is so good to be back with my new 'Patrick's Pick Of the Month!  As I said last month, I am deeply passionate about making sure that each of you is looking – and FEELING – your best every single day when you wake up – especially on these cold winter mornings!!
Speaking of cold winter mornings – as we all know, Jeanne Bice was originally from Wisconsin – so she KNEW what a cold, dark and long winter was like.  She use to say:
"I don't want to feel cold and dark when I put on clothes in the wintertime – I want to brighten it up and put a little bit of happiness, color and sunshine into my wardrobe – ESPECIALLY when it's so cold outside!"
So, with Jeanne's words of wisdom for wintertime dressing ringing in my ears, I can't wait to share with you my picks of the month!  But I'm warning you now, with SO many Quack-Tastic items coming your way from our Design Team this month, I couldn't limit myself to just one or two things!
Tis The Season To Sparkle & Shine!

Nothing says 'Season's Greetings!' like the sparkle and shine of sequins and that's why my first pick-of-the-month is the Stretch Velour Sequin Swirl Short Sleeve Top.  This one comes in 4 beautiful colors.  Here is a picture of Angel in the Royal Blue option – and our gorgeous Kerin has chosen the Hunter Green – which I feel is one of this year's most festive holiday colors.  Don't they both look stunning in this top?!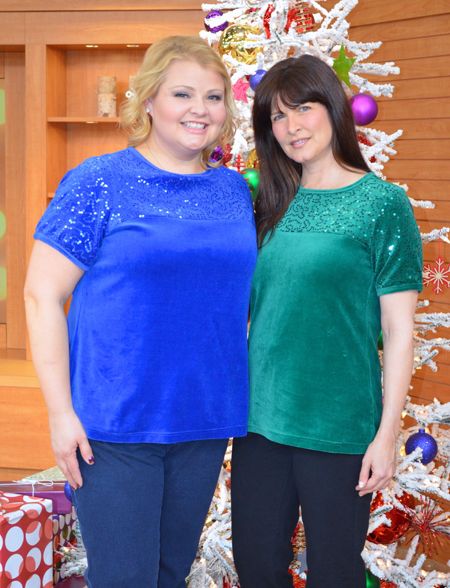 I firmly believe that when you're making a decision to buy a new 'party' top like this one, you need to ensure it will give you great versatility and be something that you can wear when you want to be casual as well – so that's why I've teamed it up with my pick from last month the DreamJeannes 5 Pocket Knit Denim Boot Cut Pants.  With over 24 colors in these DreamJeannes, you will DEFINITELY find a pair or two to wear with this top, when you feel like going casual! 
But can I really tell you what I love about this top?!  As many of you know, a lot of 'velour' tops in the marketplace are packed with polyester – but not this one!  Our team made sure this one was soft and comfy – so that's why there is 80% cotton in ours – how Quack-Tastic is that?!  And because this one is short-sleeved, it's the PERFECT layering piece to put under a dress jacket – but comfortable enough so that you won't be having your own 'personal summer' as you enjoy a yummy Christmas Day ham or turkey!  And the sequins are perfectly placed to reflect light to have you looking your best!
Let It Snow, Let It Snow, Let It Snow!

It wouldn't be the start of the holidays if our incredible design team didn't take inspiration from beautiful Mother Nature – and while my next pick might be embellished with the most beautiful snowflakes ever created, make no mistake about it, you'll be keeping warm and cozy as you wrap yourself in the Winter Wonderland Velour Top! This beauty comes in 4 colors – and just wait until you see the sizzle in these sequins!  Here's Kerin wearing it in the radiant Ruby option – and you can see that this one is a tunic length!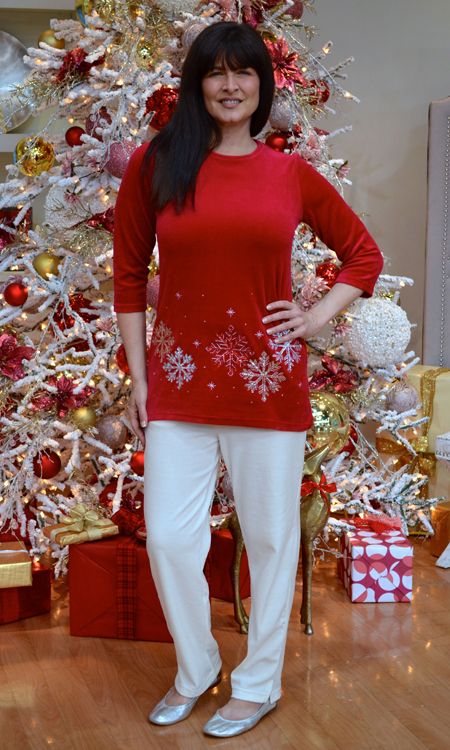 I've teamed this one up with our BRAND NEW Velour pants WITH pockets!!  They are are the Velour Pants With Pockets.  They come in 4 colors as well – and Kerin is wearing the Ivory option – which is this winter-seasons MUST HAVE color!  You can wear flats like Kerin is – or you can really go to town and strap on a pair of your favorite heels to glam up this outfit!
Christmas waves a magic wand and everything sparkles just a bit more!

Speaking of glamming it up – you'll be the belle of the Winter Ball (or New Year's Eve!) in this next pick of mine.  It's the Sequin & Lace ¾ Sleeve Knit Top.  I love, love, love this top.  Jeanne loved making sure that you sparkle and shine – especially during the holidays – and I KNOW she is smiling down from heaven seeing this top.  It exudes confidence and pizzazz – and you will be too when you put this one on.  The lace overlay throughout the top makes this one extra feminine.  And what I also love is that you can wear this one ALL year long – now THAT'S what I call a good investment!  How beautiful is Kerin in the Black option?!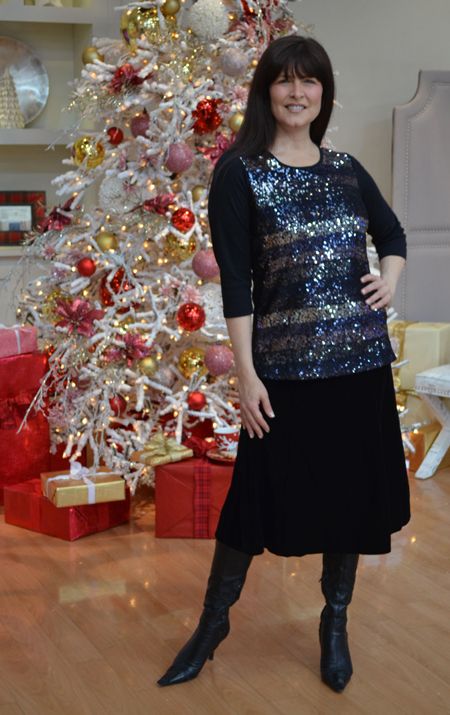 And I've put that together with my pick from last month, our Velvet Pull-On A-Line Skirt.  (Which, by the way, is now on Clearance Price – so click on that link and grab one if you missed out last month!)
Getting Casual and Looking Fabulous!
I know that the holiday season is not all about parties and getting decked out – in fact, you spend a lot of time 'decking the halls', decorating, shopping, wrapping presents, playing with grandchildren, etc. – so I've got the perfect top for those times when you just need (and want!) to be comfortable – but still want to sparkle and shine! Our Mini Sequin ¾ Sleeve 1×1 Rib T-Shirt is THE top that will be perfect for everything from decorating the tree – to chatting with your girlfriends.  This top was made for comfort – but still let's you show the world you are a woman who can do it all!  I love the tone-on-tone sequins for that subtler look.  And since this one comes in SIXTEEN colors, you'll be spoiled for choice!  Here are Angel & Kerin, looking adorable, in the Green and Ivory options: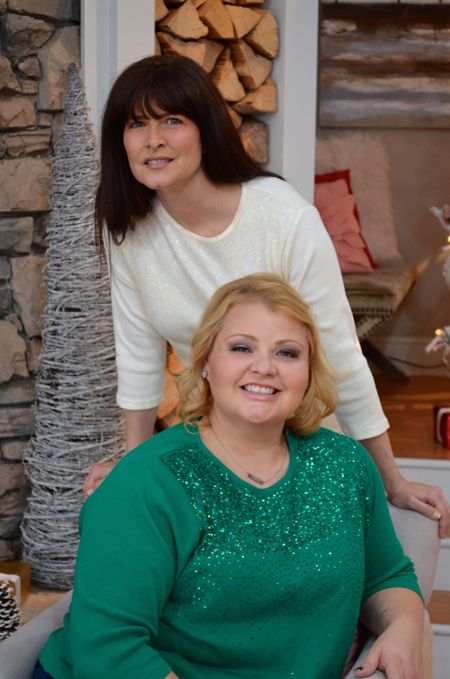 Believe In The Magic Of The Season!

I hope you've enjoyed my second series of 'Patrick's Pick Of The Month' as much as I have enjoyed selecting these items for you!!!  I've got more coming up soon – but I hope these choices will give you some ideas of how you can look and FEEL your best over the upcoming holidays.
Speaking of the upcoming holidays, on behalf of Angel and myself – and our entire Quacker Factory team (including Kerin and all of our beautiful models!) – I wish you the BEST ever start to your holiday season – may it be filled with love and happiness –and friends and family!!!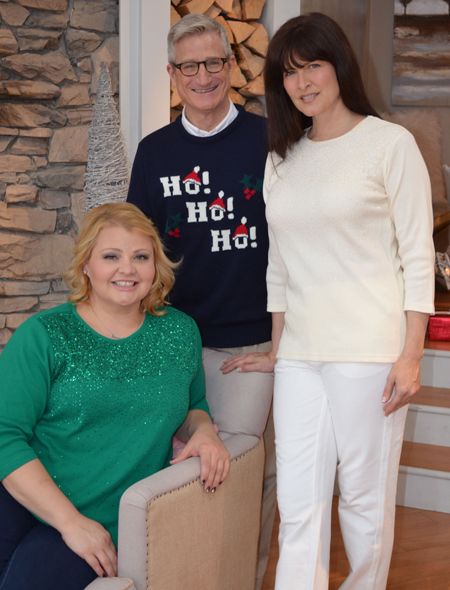 Quacker Hugs & Love From Across The Pond!!!
Patrick
Xoxoxo
Click on each link below to see more detail about each of Patrick's picks
Stretch Velour Sequin Swirl Short Sleeve Top
DreamJeannes 5 Pocket Knit Denim Boot Cut Pants
Sequin & Lace ¾ Sleeve Knit Top

Mini Sequin ¾ Sleeve 1×1 Rib T-Shirt
To sign up for our Quacker email list to get the inside scoop, Click Here

To follow Quacker Factory with Patrick on Facebook, Click Here

To follow Quacker Factory with Angel on Facebook, Click Here