Several years ago Jeanne wanted to host a Cookie Exchange show on QVC.  She partnered with Jayne Brown & Pat James-Dimentri , and they co-hosted the show during a Fashionably Early program.  This show was so successful and everyone had a blast!!  And can I tell you– there were a million cookies!!!  We had recipes from Judith Ripka, from the models and from the hosts.  What a fun filled morning!!!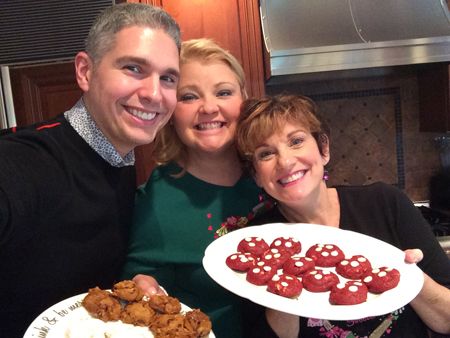 Thankfully we have been able to continue this "sweet" tradition at QVC.  Out next Cookie Exchange show will be held on November 11, 2014 from 1-3 pm eastern.  We will have lots of great surprises for you!  See you then! 
Here are the recipes for Angel, Jane & Alberti's cookies:
Jane's Red Velvet Polka Drops
1/2 cup unsalted butter
1 cup sugar
1 teaspoon white vinegar
1 large egg
1 teaspoon vanilla
2 teaspoons red food coloring
1 1/2 cups flour
3 tablespoons cocoa
1  teaspoon cornstarch
3/4 teaspoon baking powder
1/4 teaspoon salt
1 12 oz. bag white chocolate chips
Directions:
Preheat oven to 375.  Cream butter and sugar until fluffy.  Add vinegar, then egg until combined.  Add red food coloring and vanilla.
Mix all dry ingredients together and slowly add to the mixture.  Stir in a little over 1/2 the bag of chips. Roll into balls. Bake for about 10 minutes.  After you remove the cookies from the oven, place more chips on top, pointy side down to look like white polka dots.
Angel's Pumpkin Drop Cookies
1 box spice cake, unprepared
1 can (15 oz.) pure pumpkin
1 bag (12 oz.) semi-sweet chocolate chips
Instructions–Preheat oven to 375 degrees
Mix together dry spice cake mix and pumpkin until completely blended.
Fold in chocolate chips.
Drop onto sprayed cookie sheet       Bake for 8-9 minutes
Alberti's Almond Butter Cookies
1 Cup Butter
½ cup sugar
2 tsp vanilla extract
2 tsp water
2 cups all-purpose flour
1 cup chopped almonds
½ cup confectioners' sugar
Directions:
Cream butter and sugar in a bowl, then stir in vanilla and water. Add flour and almonds and mix until blended.  Cover and chill for 3 hours.
Preheat oven to 325 degrees.
Shape dough into balls and place about 2 inches apart on a cookie sheet.  Bake for 15-20minutes.  Remove from sheet and cool on a wire rack.  When cookies are cool, roll them in confectioners' sugar.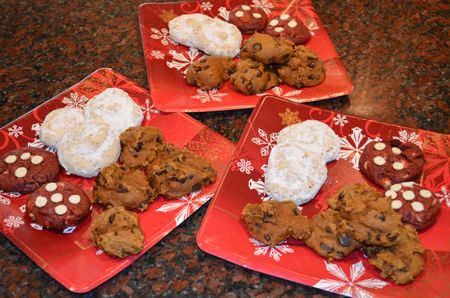 To stay up to date with what's Quackin' at the Quacker Factory, join the email list! Click Here to sign up to receive Quacker emails.
To follow Quacker Factory with Angel on Facebook, Click Here
To follow Quacker Factory with Patrick on Facebook, Click Here