This week as I was putting the final touches on my Christmas decorations, I really thought about Jeanne.  I am blessed because after she passed, I received some of her Christmas decorations from Tim.  So I always think of her, and know that she is in my heart!!
So I pulled out her book—"Quacker Factory Christmas" and I started re-reading the stories & I even baked a cookie recipe from her book-using some of her cookie cutters.  The stories are wonderful and it made me miss her even more.
So for this week's blog, I decided to make one of her yummy recipes.  The recipe I chose— White Christmas Hot Chocolate!  and I hope you like it as much as I do—I had never made this one before.  I even added my own little twist at the end!  Enjoy…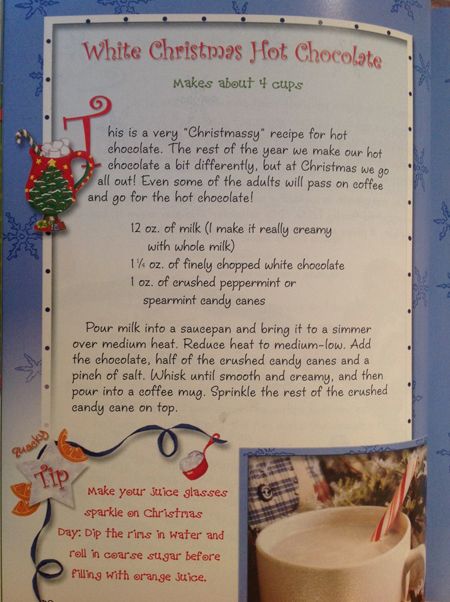 Literally, a page out of Jeanne's book!!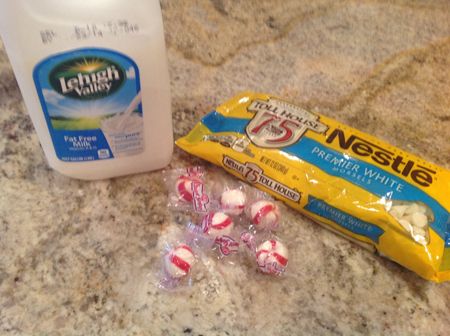 Gather the ingredients!  I just used what I had on hand.
A processor or Vitamix would work great too.  I prefer to use a knife to really feel like I am cooking. But if you are making this for a crowd, definitely use a machine!!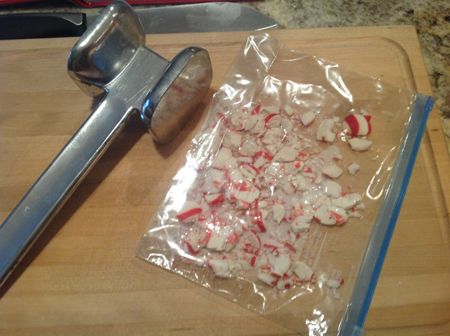 I used a meat tenderizer to smash the peppermints—plus this helps reduce stress—hehe.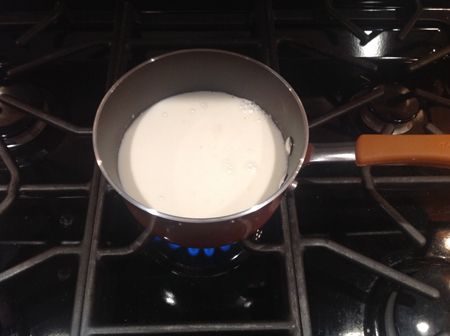 Place all of the ingredients in a pot to cook them  on the stove.  Like my new Rachel Ray pot??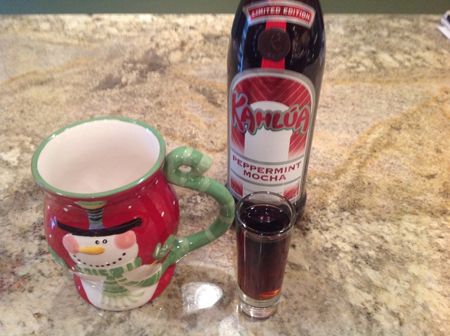 Ok everyone—this is my little twist.  I reduced the amount of crushed peppermint candies, and added a shot of this Peppermint Mocha Kaluha.  We got this last year for Christmas, so I am not sure if it is still available.  But you could use some peppermint schnapps instead.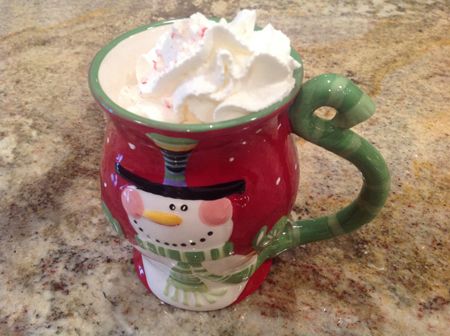 Here is my finished White Christmas Hot Chocolate—I added some whipped cream and topped it off with some more crushed peppermint candies.  Let me tell you—it is QUACK A LICIOUS!!!!!!!<
I hope you enjoy this as much as I did.  Happy Holidays!!!
Angel xoxo
Sign up to receive Quacker Factory emails and be up to date, Click Here
To follow Quacker Factory with Angel on Facebook, Click Here
To follow Patrick on Facebook, Click Here